The Architect of Desire
Stanford White, designer of elegant Long Island houses for the Gilded Age
By Rhoda Amon
Staff Writer
Stanford White, one of America's most famous architects, married into Long Island history — though he was less than an ideal husband.
In 1884, White, who designed some of the most opulent structures on Long Island, wed Bessie Smith, a descendant of Smithtown founder Richard (Bull) Smith. Twenty-two years later, still married, White was shot to death on the roof of Madison Square Garden by the jealous husband of his former lover, a teenaged showgirl.
With his untimely end in stark contrast to his ebullient lifestyle and rich architectural legacy, White is summed up by his great-grandaughter as a gifted, complex and, ultimately, tragic figure. "He didn't want to hurt anyone,'' said writer Suzannah Lessard. "At the same time he had a destructive side, an inability to not do what he did.'' Her 1996 book, "The Architect of Desire: Beauty and Terror in the Stanford White Family,'' chronicles the generations of descendants who continue to live in and near Box Hill, the Saint James house Stanford and his wife bought as a summer home in 1886. They also had a home in New York City, where he was born in 1853.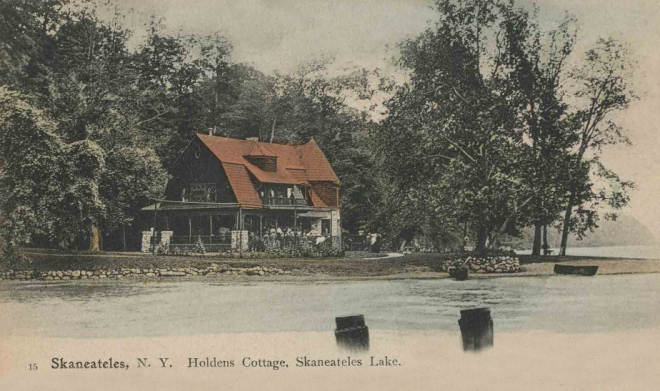 During his heyday, White designed about 40 luminous Long Island structures, including the old Garden City Hotel and the Harbor Hill mansion in Roslyn, and set a standard for beauty and opulence for generations of architects. In the late 1880s, White became the darling of the nouveaux riches, who discovered Long Island as a fox-hunting, polo-playing, yacht-sailing haven.
"They wanted to live like the nobility of Europe, with huge estates secluded behind gates," said Lessard. White cultivated them, partied with them and fulfilled their wishes by creating baronial "cottages" for them. (White himself never became rich; during his last years he was deep in debt.)
Yet with his passion for beauty and elegant interiors, he epitomized the Gilded Age, which would start to fall apart after World War I. That age, with its large houses set back on great gated estates, ironically, set the stage for Long Island's "suburban sprawl,'' Lessard said. Instead of developing a system of clustered villages, Long Island grew sprawling developments of homes surrounded by as much private property as possible.
One of White's first efforts on Long Island was a Montauk Point enclave of shingled houses with wide porches. The East End had not yet emerged as a chic destination when, in 1882, eight wealthy sportsmen approached White's New York City firm, McKim, Mead & White, to create a hunting and fishing colony on a bluff at the easternmost tip of Long Island.
The Montauk houses were among the earliest of the Shingle Style summer places of 10 to 30 rooms, popular in the late 1800s. The firm built seven cottages and a clubhouse, and the owners were determined to keep it exclusive. One owner, corporate lawyer Harrison Tweed, would clear the area of intruders by strolling naked on the beach. Now, only five cottages remain, all listed in the National Register of Historic Places.
Tragically, two of White's most trend-setting creations have been lost. "If you were to list the 10 greatest losses to Long Island in the 20th Century, you would include the old Garden City Hotel and Harbor Hill in Roslyn,'' said Robert B. MacKay, director of the Society for the Preservation of Long Island Antiquities.
White redesigned the 1871 Garden City Hotel, making it U-shaped with parallel wings. Reopened in 1895, the hotel was gutted by fire four years later. Undeterred, White directed the rebuilding, making it larger and grander with a vertical tower adapted from Independence Hall in Philadelphia. It became the center of Island society, frequented by Vanderbilts, Morgans, Astors. The hotel slid into decline and was demolished in the 1970s.
It would take White five years to complete Harbor Hill, the huge stone French château he built on 600 acres in Roslyn Harbor for silver mining heir Clarence Mackay. Until then, the resort homes of the late 1800s were built Shingle Style on a smaller scale.
"After Harbor Hill, architects began tearing down houses, or building masonry envelopes around them,'' said Robert MacKay, co-author of "Long Island Country Houses and their Architects, 1860-1940,'' published in 1997. "From then until 1914, really large mansions were built in the European style.''
To furnish the château, White scoured Europe for treasures, bringing back shiploads of tapestries, paintings and medieval armor for Mackay's world-class armor collection. The Mackays entertained in their showplace, climaxed by a glittering party with 1,200 guests in 1924 for the prince of Wales (briefly Edward VIII and later the duke of Windsor), who reportedly said, "I am impressed with the grand scale of hospitality on Long Island.'' Unfortunately, the mansion was demolished in 1947. All that's left is an elegant gateway on Roslyn Road, now the entrance to a swim club.
What is still intact, however, is White's last project, the 1906 Trinity Episcopal Church on Northern Boulevard in Roslyn, commissioned by Katherine Duer Mackay, and modeled after medieval English parish churches. White's work also can be seen in the Shingle Style Shinnecock Hills Golf Clubhouse, the first golf clubhouse in America.
The game was so little known in the United States at that time that a businessman bringing golf clubs from Scotland was stopped by a customs agent who didn't believe a game could be played with "instruments of murder.''
Lessard can recognize her great-grandfather's style. The work of his partner, Charles McKim, was "monunmental. Stanford's work had a lightness.'' Their company, McKim, Mead & White, one of the nation's most influential architectural firms, trained hundreds of young architects, some of whom may have contributed designs credited to the flamboyant White.
The trial of his murderer, millionaire playboy Harry Thaw, was on a par with the recent O.J. Simpson trial. The scandalous sex triangle shocked a nation still clinging to Victorian virtue. New York's 14 newspapers fed on the lurid details — which included details of White pushing his lover, Evelyn Nesbit, naked on a red velvet swing. Thaw's two trials gave ample opportunity to savor the exposure of the "satin-lined sins of the rich.'' The first trial ended in a hung jury. At the second one, he was found not guilty by reason of insanity and was committed to a mental institution — from which he later escaped. (He was recaptured in Canada, pronounced sane in 1915 but was recommitted after he horsewhipped a teenaged boy.)
"The public was repudiating the excesses of the rich, and they mistakenly thought Stanford White was one of them,'' Lessard said.